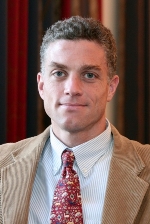 Noah W. Sobe is Professor of Cultural and Educational Policy Studies at Loyola University Chicago where he also directs the Center for Comparative Education.
He is a historian of education who studies the global circulation of educational policies and practices with a particular interest in the ways that schools function as contested sites of cultural production for the making up of peoples, societies and worlds.
His recent research includes work on education in post-socialist contexts, affect and emotion in education, and educational merit and meritocracy.
Professor Sobe is President (2017-18) of the US-based Comparative and International Education Society (CIES) and also serves on the Executive Committee of the International Standing Conference on the History of Education (ISCHE).
He is the author of over 35 journal articles and book chapters, with publications appearing in journals such as Paedagogica Historica, History of Education, Current Issues in Comparative Education (CICE), and the Harvard Education Review.
Professor Sobe also serves as co-editor of European Education, an Associate Editor of Cadernos de História da Educação (Brazil) and is on a number of editorial boards including Paedagogica Historica and Educational Policy Analysis Abstracts (EPAA).
His publications include:
-- McLeod, J., Sobe, N. & Seddon, T. (Eds.) World Yearbook of Education, 2018. Space-times of education: Historical sociologies of concepts, methods and practices. London and New York: Routledge.
-- Sobe, N. (2017) Travelling researchers, colonial difference: comparative education in an age of exploration, Special Issue of Compare: A Journal of Comparative and International Education on the occasion of the 200th anniversary of Marc-Antoine Jullien's proposal for comparative education, 47(3), pp. 332-343.
-- Sobe, N. (2009) (Ed.) American Post-Conflict Educational Reform: From the Spanish-American War to Iraq. New York: Palgrave Macmillan.
-- Sobe, N. (2008) Provincializing the Worldly Citizen: Yugoslav Student and Teacher Travel and Slavic Cosmpolitanism in the Interwar Era. New York: Peter Lang.
---
The Slowing Global Order: Changing Contexts of Education and Comparative Research
In both academic and popular conversations globalization is commonly associated with speed, acceleration and the intensification of economic, cultural and social interactions and processes. The crises of our current moment invite attention to the slowing of global exchange, international cooperation and transnational mobility. Nonetheless, at the same time, it seems prudent to reflect on uneven temporalities in the global order. A review of economic, social and educational inequities around the globe suggests that recent decades have seen time-spaces where the fast and the slow both coexist and contradict one another. Paying attention to global tempo is, in part, to recognize the argument proposed by some historians that globalization be approached from a longue durée perspective which sees human societies as experiencing broad periods of globalization and de-globalization. While offering a historical examination of time and temporalities in education, this lecture also seeks to grapple with new, emergent uneven temporalities in education.
Globalization scholarship often claims that that transnational and/or world-spanning processes, phenomena and entities have profoundly reshaped the context(s) in which schooling occurs. From international student flows to new dynamics of knowledge creation and a trans-nationalizing reshaping of the spatialities and locations of education, globalization seems to have profoundly reconfigured educational policies and practices. Notwithstanding such dynamics, this lecture directs attention to deceleration and disengagement within the global order. It examines the role that comparative education plays in these processes and dynamics – which involve both the construction and denial of coevality, commensurability, and one-worldness. The coloniality of power is enacted through educational comparisons, particularly as comparisons hierarchically order societies and groups in relation to movement across time towards modernity, development or even a less freighted notion of "improvement". In tandem with the tendency to divide and differentiate temporalities, comparative education has also been complicit in the smoothing of time-space: the construction of apparent universalisms, commonsenses and "best practices" that erase and invalidate difference and diversity. Alongside a discussion of the active role education plays in these contradictory global processes and dynamics, this lecture examines the opportunities, risks, and challenges for comparative education in a slowing global order.