Professor Miguel A. Pereyra (2008-)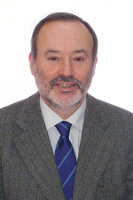 Born in 1950 in the Canary Islands, Miguel A. Pereyra is chair («catedrático») of Comparative Education at the University of Granada and the President of the Comparative Education Society in Europe (CESE) since 2008.
His university education included a «licenciatura» in Education (with Honors), a «licenciatura» in History, and a doctorate in Philosophy & Arts (Education) (University of Valencia). He accomplished post-doctoral studies and research at Teachers College, Columbia University, and, holds a Master of Arts (Comparative Education & History) and a Master of Philosophy (History & Comparative Education).
From 1983 to 1986 worked as a policy-maker at the Ministry of Education & Science in Madrid, playing a leading role in the design of the new Spanish teacher educational policy and in the introduction of innovations in this field through multiple activities related to teacher training and the creation of the Spanish teachers centers. Representing the Spanish Ministry of Education & Science, he participated in various international activities and meetings organized by the OECD, the Council of Europe and other international organizations.
Between 1986 and 1992 he was the Editor of Revista de Educación, a theoretical journal published by the Spanish Ministry of Education & Science, and a most distinguished publication in the field of education in the Spanish speaking countries. And from 1994 to 2007, he was the editor of Educación y Conocimiento (Education & Knowledge), a series published by Ediciones Pomares (a printing press from Barcelona-México), in which outstanding scholarly works on postmodern social theory & education were published. Under his initiative Ediciones Octaedro, of Barcelona, one of the leading pub-lishers in the educational field in the Spanish speaking world, created in 2008 a specialized series focused on Educación Comparada e Internacional (Compara-tive & International Education).
In the period 1993-2008 he was Head of the Grupo de Investigación (Research Group) Políticas y reformas educativas (Educational policy and educational re-forms) of the Autonomous Government of Andalusia, in Spain. Under his directorship the Grupo de Investigación conducted during the period 1997-2001, a large comparative and socio-economic research project on Education Governance and Social Exclusion and Inclusion of Youth funded by the European Union (TSER EGSIE of the GD XII). He has also been member of various other international research groups. He was a DAAD Fellow as Guest Professor at Humboldt University (1997-1998), a Tinker Professor at the University of Wisconsin-Madison (1999), and a Senior Fulbright Scholar at the University of Indiana-Indianapolis (2000).
In November 2008, the Teachers College, Columbia University, awarded him the Harold Noah Award in International & Comparative Education created to recognize the merits of the brightest students who have gone through their studies on Comparative & International Education under the name of one of the most renowned specialists and creators of this scientific field. Prof. Pereyra is the first recipient of this award.
He organized many conferences and symposia including the XXII CESE Conference in Granada (2006) on Changing Knowledge and Education: Communities, Information Societies and Mobilities – The World in Europe, Europe in the World, and the CESE International Symposium on PISA under Examination: Changing Knowledge, Changing Tests, and Changing Schools in the Island of La Palma (2009) with the participation of twenty leading international scholars from Europe and North America.
Currently he is the co-editor of the series Comparative and International Education: a Diversity of Voices published by Sense Publishers (The Netherlands) and an active member of several editorial boards of Spanish and international journals, such as London Review of Education, Revista Española de Educación Comparada, Propuesta Educativa (from FLACSO, Buenos Aires), I Problemi della Pedagogia, and Archivos Analíticos de Políticas Educativas.
His interests are in the fields of comparative education and cultural and social historical theory applied to education, which are reflected in his writings. He has been published both in Spanish and English. His more recent publications include:
the Volume Changing Knowledge and Education. Communities, Mobilities and New Policies in Global Societies (Frankfurt: Peter Lang Verlag, 2008);
"Social Change and Configurations of Rhetoric: Schooling and Social Exclusion-Inclusion in Educational Reform in Contemporary Spain" (with Juan Carlos Gonzalez Faraco, Antonio Luzón & Mónica Torres), in International Handbook of Comparative Education (London: Springer, 2009);
the Monograph on the German debate about PISA (with Hans-Georg Kotthoff): La experiencia del PISA en Alemania published in the electronic journal Profesorado. Revista de currículum y formación del profesorado (Vol. 13, No. 2, 2009, http://www.ugr.es/~recfpro/?p=435).
the Volume Pisa under Examination: Changing Knowledge, Changing Tests, and Changing Schools, (with H.-G. Kotthoff & R. Cowen) (Sense Publishers in association with CESE).