Professor Henk Van daele (1988-1992)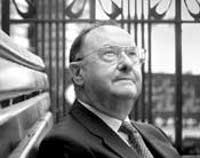 Henk Van daele was born in Antwerp in 1930. He matriculated at the Municipal Teachers' College which in 1950 awarded him a diploma of primary school teacher. Van daele then attended courses at the University Ghent, Institute of Education. He graduated in 1954 and began a career as a primary school. In 1961 he became a lecturer at the Teachers' Training College in Antwerp. His doctoral thesis was upheld at Ghent University in 1967; the supervisor of his thesis was Prof. Dr. R. L. Plancke, one of the founding fathers of CESE.
Van daele's university career started in 1972 when he was appointed Professor at the University Ghent, Department of Comparative Education and History of Education. While being full-time Professor in Ghent, he was offered a part-time professorship in comparative education at the Vrije Universiteit Brussels. Van daele retired in 1995. During the academic year 1995-1996, he was a visiting professor at the College of Europe in Bruges.
Henk Van daele was Secretary-Treasurer (1977-1988) and President (1988-1992) of CESE. He also was President of the 'Nederlandstalig Gezelschap voor de Vergelijkende Studie van Opvoeding en Onderwijs' (NGVO, the Dutch-speaking Society of Comparative Education, 1990-1995) and Vice-President of the 'Association Francophone d'Education Comparée' (AFEC, 1994-2000). Van daele was a member of the Belgian National Commission of UNESCO and a member of the Editorial Board of several Flemish and international educational journals.
Van daele contributed more than 250 articles to Flemish and international journals, dictionaries and miscellaneae, and wrote several books:
150 Jaar stedelijk onderwijs te Antwerpen 1819-1969, Antwerpen, 1969. [150 Years of Municipal Education in Antwerp 1819-1969.]
Geschiedenis van het stedelijk lager onderwijs te Antwerpen van 1830 tot 1872, Brussel, 1972. [History of Municipal Primary Education in Antwerp 1830-1872.]
Camille Huysmans en het onderwijs, Antwerpen, 1976. [Camille Huysmans and Education.]
50 Jaar jeugdherbergen, Antwerpen, 1982. [50 Years Youth Hostels in Flanders.]
Education Comparée, Paris, 1993. [Translated in Arabic, 1996, and in Hungarian, 2001.]
He was also editor or co-editor of several other books:
Professor R. L. Plancke, Gent, 1981
The Impact of Technology on Society and Education, Antwerp, 1986
Aims of Education and Development of Personality, Brussels, 1990.
Henk Van daele survived breast cancer. He is now an active member of two self-help groups for breast cancer patients and a voluntary part-time collaborator of the Oncology Centre in Antwerp.