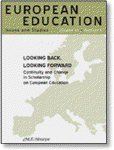 CESE is affiliated with Taylor & Francis's journal European Education: Issues and Studies, an international peer-reviewed publication that publishes original comparative and international education research on education in Europe.
CESE members are eligible for a two-years free online subscription to the journal (as part of their membership fee).
A section of the journal is regularly devoted on CESE News and a special issue that is connected with CESE conferences, symposia or seminars is published every two year.
Many members of CESE serve in the advisory board of the journal and as reviewers of articles.
For more information about the journal click here.