XXIII Conference (Athens 2008)
"Changing educational landscapes: educational policies, schooling systems and higher education: a comparative perspective", selected papers from the 23rd CESE conference. Edited by Dimitris Mattheou (Dordrecht and London, Springer, 2010, 328 p.).
Changing educational landscapes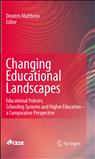 Dimitris Mattheou (Editor)
Changing Educational Landscapes: Educational Policies, Schooling Systems and Higher Education - a comparative perspective
Dordrecht, Springer, 2010, 315 pp.
About the book
Analyzing educational landscapes – the fundamental values, principles and institutions of the sector – is a highly complex and demanding task for any researcher. Like shifting desert sands, these aspects of education are in a constant state of flux, changing according to the unpredictable economic, social, cultural and geo-political circumstances of late modernity. Key aspects of the intricate, fluid and multifarious contemporary setting can always escape the researcher's necessarily selective observation. The contributors to this book share the view that it is wise, therefore, to take note of other people's ideas, perceptions and perspectives, to compare notes and reflect critically on them. Thus the papers presented here are a critical and comparative analysis of today's changing educational landscapes. They are an exploration of some of the forces and factors that induce these changes, and also examine some of their most significant implications. The work takes a fresh look at received ideology and institutional practices and delineates the increasingly internationalized educational discourses and policies. Among other things, the book discusses the obsession with quality in education and the alternative perceptions of educational equality; the rising concern at the obstacles to truly multicultural education, and the debate about the epistemological foundations both of knowledge and knowledge production. Underlying all of the papers in the book is the authors' intention to enhance our understanding of educational change in this era of transition and to further our appreciation of its multifaceted expressions across the world.
Table of contents
Dimitris Mattheou: Changing Educational Landscapes - An Introduction.
Andreas Kazamias: The Owl of Athena: Reflective Encounters with the Greeks on Pedagogical Eros and the Paideia of the Soul (Psyche)
Maria Jose Garcia Ruiz: Implications of the New Social Characteristics of Knowledge Production
Eleni Prokou: University Reform in Greece: a Shift from Intrinsic to Extrinsic Values
Christine Musselin: Universities and Pricing on Higher Education Markets
Jagdish Gundara and Namrata Sharma: Providing Access to Education: Intercultural and Knowledge Issues in the Curriculum
Ana Bravo-Moreno: Access and Transitions in Education
Maria Papapolydorou: Educational Inequalities in Greece, Sweden and the UK: A Comparative Analysis of the Origins
Leslie Limage: Public Education, Migration and Integration Policies in France
Angelyn Balodimas-Bartolomei and Nicholas Alexiou: The Inclusion of Invisible Minorities in the EU Member States: The Case of Greek Jews in Greece
Angeline Barrett and Leon Tikly: Education Quality: Research Priorities and Approaches in the Global Era
Eleni Karatzia-Stavlioti: Pupil Assessment in a Historical Perspective: Contribution to the Contemporary Debate
Efstratia Sofou: Recent Trends in Early Childhood Curriculum: the Case of Greek and English National Curricula
Sari Hosoya and Mirja Talib: Pre-service Teachers' Intercultural Competence: Japan and Finland
Ulrich Teichler: Internationalising Higher Education: Debates and Changes in Europe
Anthony Welch: Nation-state, Diaspora, and Comparative Education - the Place of Place in Comparative Education
Thyge Winter-Jensen: The Role of the Nation State Reconsidered
Dimitris Mattheou: Coda
About the Editor
Dimitris Mattheou is Professor of Comparative Education at the University of Athens
Book available as Google e-book click here